Gallery

Image Gallery at Ross Fluorescence Imaging Center @ Johns Hopkins University School of Medicine.
Before we get to the image gallery, below is the link to a cool video,
"White coats so bright" - aka "That's What We Like" -- Johns Hopkins School of Medicine Class of 2021
the featured image is Tiki_Goddess - Dr. McNamara's mascot at CHLA, UMiami, Cooper lab @ MDACC, and as of May 2017, Ross Fluorescence Imaging Center.
Below: Tiki_Goddess (DeepDreamGenerator)

***
Fluorescent protein biosensors table 20190531 version (at 50% zoom because of hosting web site quirk ... see my FP Biosensors 20190531 linkedin post for higher resolution)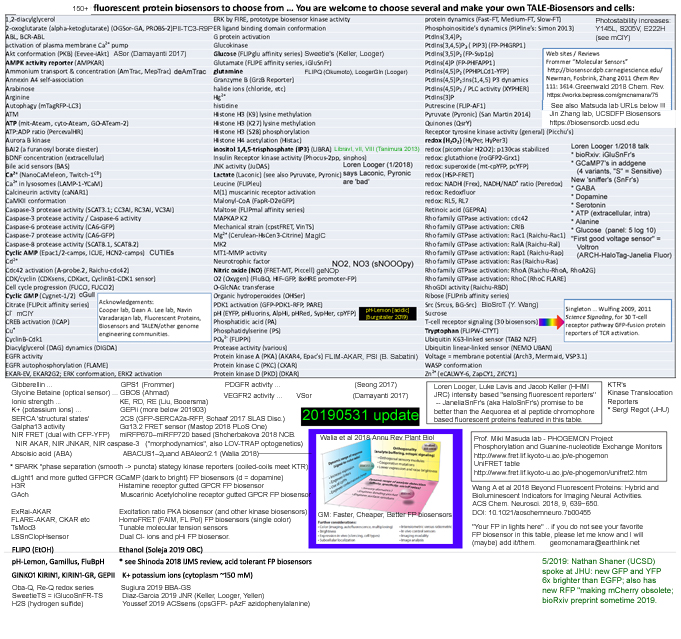 See also:
https://works.bepress.com/gmcnamara/75/ (2015)
http://www.geomcnamara.com/fluorescent-biosensors ... my FP biosensors table from ~2017 (also in my CPHG Unit) based on Newman Zhang 2011, Frommer web.
https://biosensordb.ucsd.edu ... Jin Zhang lab, Fluorescent Protein Biosensors Database (as far as I can tell, Wolf Frommer's web table is defunct).
https://www.fpbase.org ... Talley Lambert's Fluorescent Proteins Database, including spectra viewer https://www.fpbase.org/spectra/ example below is Quinine excitation and fluorescence emission (shine a UV blacklight on Canada Dry, Schwepps -- or another brand -- tonic water, https://en.wikipedia.org/wiki/Quinine emulating Johnnny Herschel's 1845 report) and our FISHscope's Hamamatsu ORCA4.0LT sCMOS camera's quantum efficiency curve.

Especially nice is interactive chart https://www.fpbase.org/chart ... I like Y = Brightness, X = emission, screen shot (so static) example below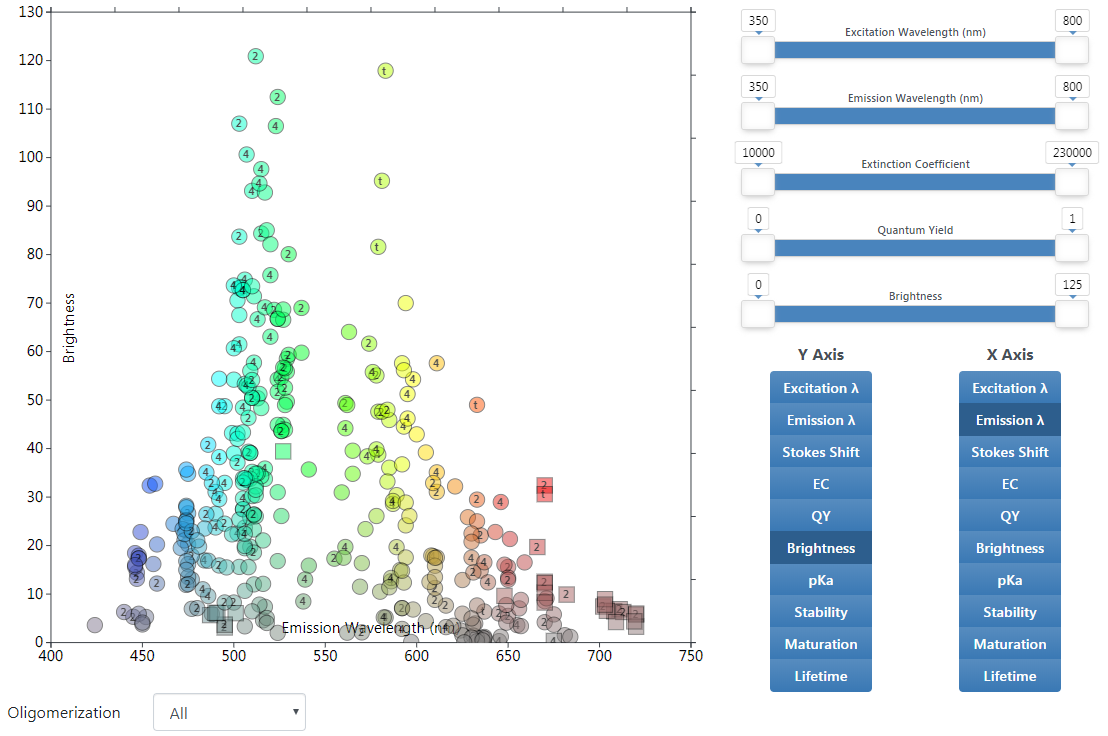 ***
20180522 Tue Confocal Microscopy dominates (among U.K. survey respondents anyway):
BBSRC UK 201805 - Strategic review of bioimaging - 1805-bbsrc-strategic-review-of-bioimaging
https://bbsrc.ukri.org/news/research-technologies/2018/180518-n-strategic-review-of-bioimaging-in-the-uk
(link from Jason Swedlow post, confocal listserv 20180521 Mon).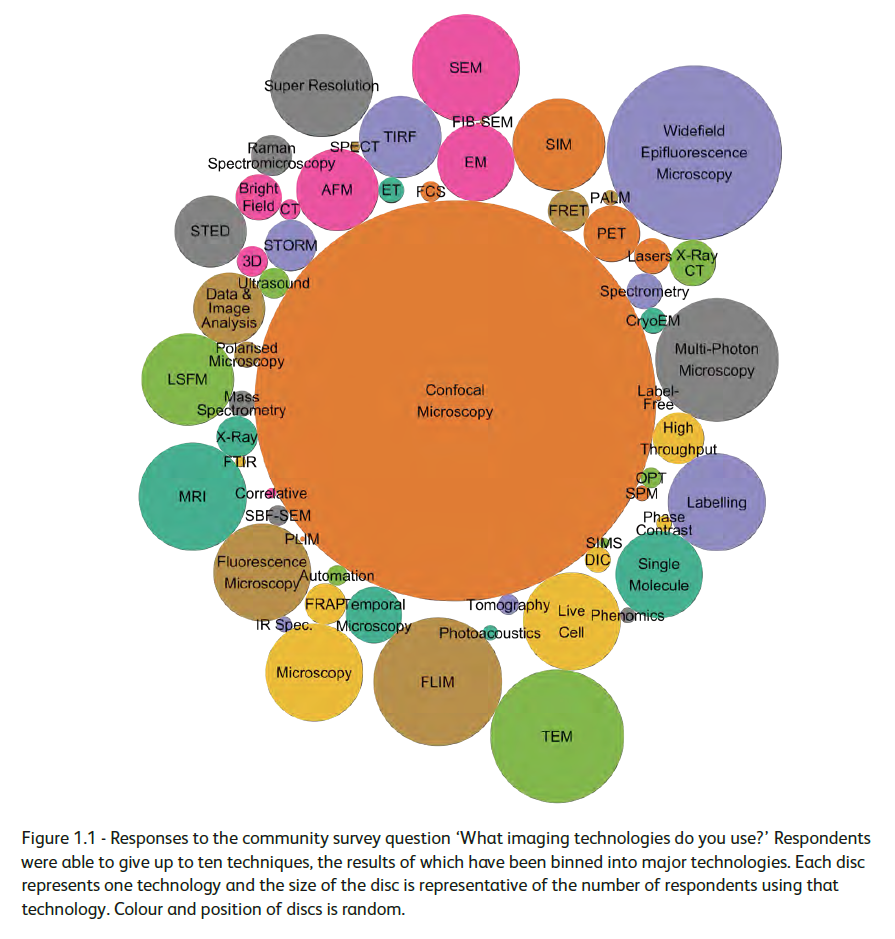 Fun quiz question: do you know what every technique/acronym is? (I know most of them ... I note some are subsets of others, for example PALM, STORM and STED are subsets of Super Resolution fluorescence microscopy' some are ambiguous: "Tomography" is the "T" at the end of several acronyms).

***
Olympus FV3000RS Confocal scanner IX83 microscope stand - arrived August 2018.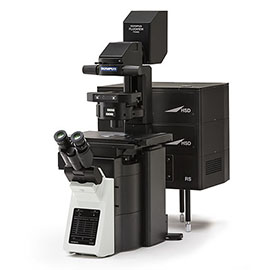 ***
FISHscope ... ordered 1/2019 ... Olympus IX83 microscope stand, so looks a lot like FV3000RS, except without the scanhead and two HSD detector decks on back of scope above (our FV3000RS also has two external GaAs detectors on top the "top deck").
***
1/2019: upper is original SKY400 image and bottom is from the Pop Microscopy image gallery exhibit in Genoa, Italy. See https://youtu.be/27Wrrp1xWtU (SKY400 at 1:00 m:ss) or http://www.ilsecoloxix.it/p/eventi/2019/01/20/ADNzKCuD-nobel_microscopy_diventano.shtml (SKY400 at 0:49).
***
HeLa crab ... acquired by Prof. Jim Potter and a great grandson of Mrs. Lacks, on our Zeiss LSM510META confocal microscope (before we retired it)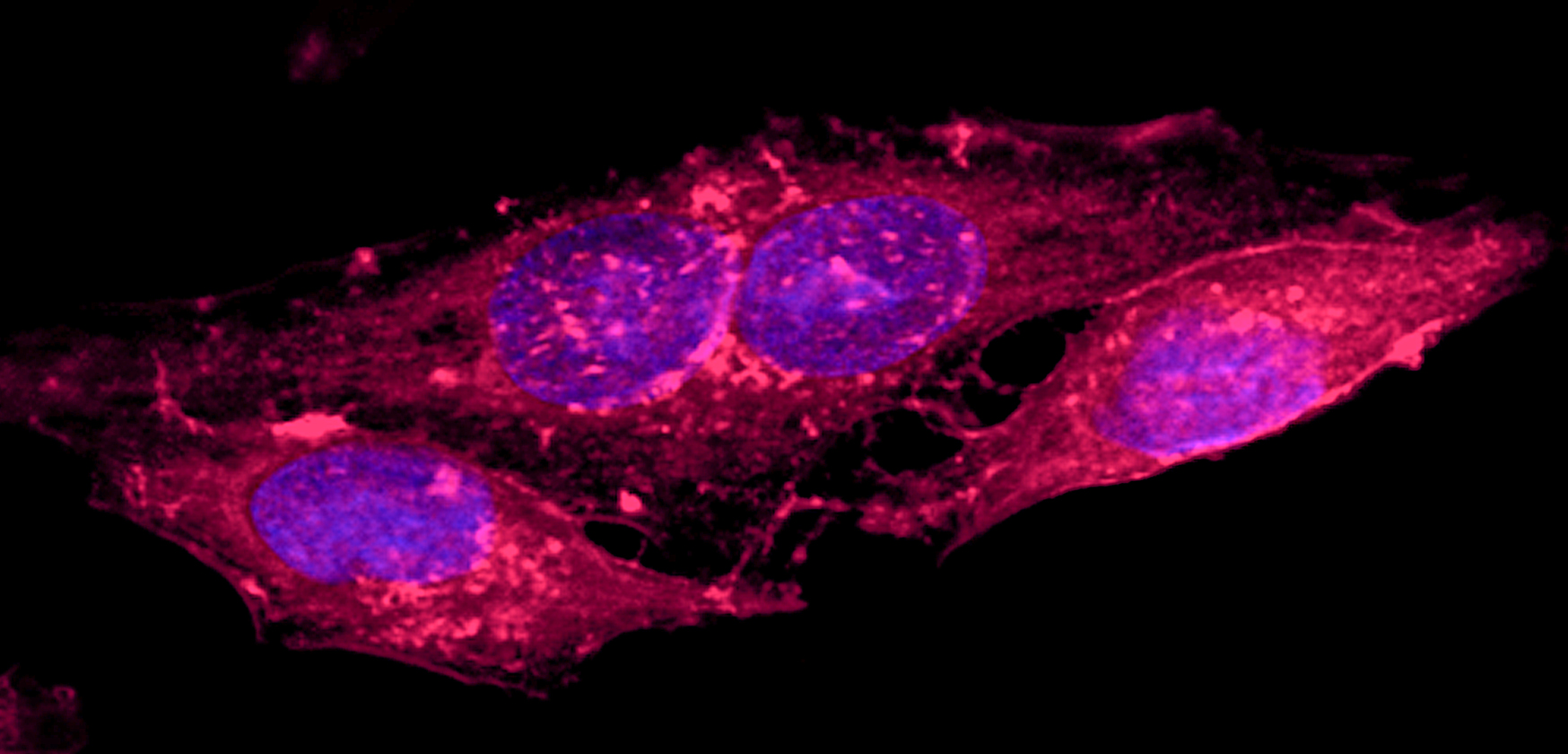 see also https://ictr.johnshopkins.edu/hela-crab
***
HeLa tetrad ... 4 grand-daughter cells in the field of view of 63x or 60x oil immersion objective lens.
https://www.ncbi.nlm.nih.gov/pubmed/20844236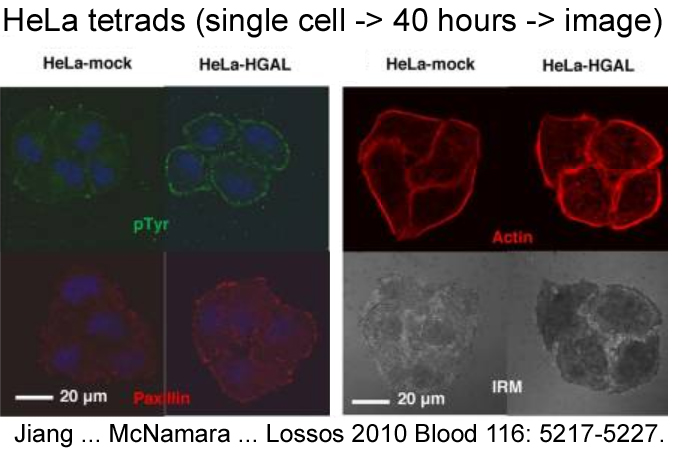 ***
May 2019 (3 week) Nikon A1RHD and X-Light confocal demonstration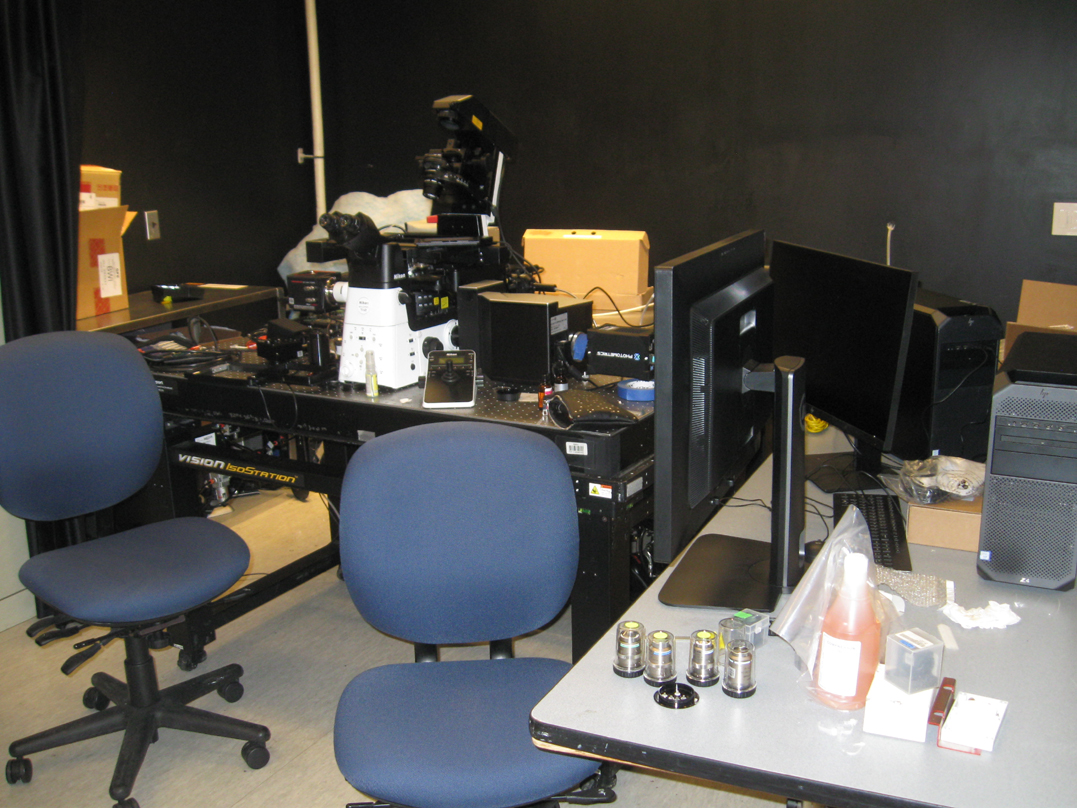 Nikon Ti2 microscope with X-Light confocal attachment on right (before A1RHD was added to left port)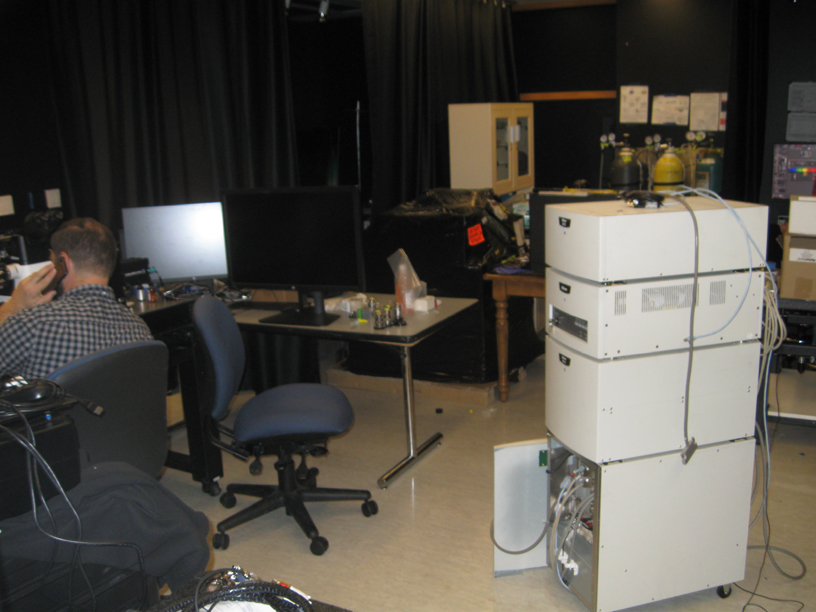 A1RHD electronics stack (coming or going?)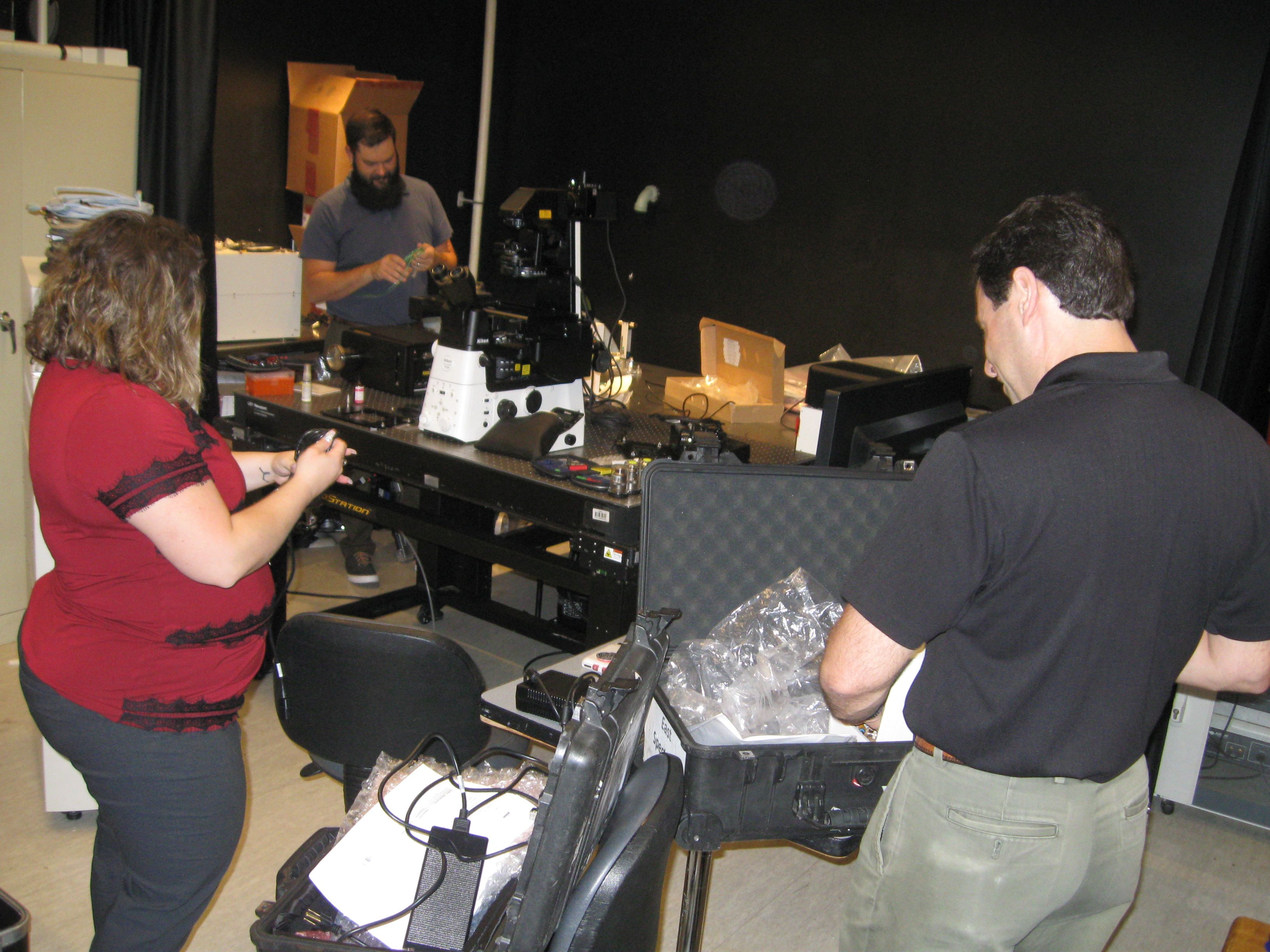 Esther, Andrew and Jesse shucking clams?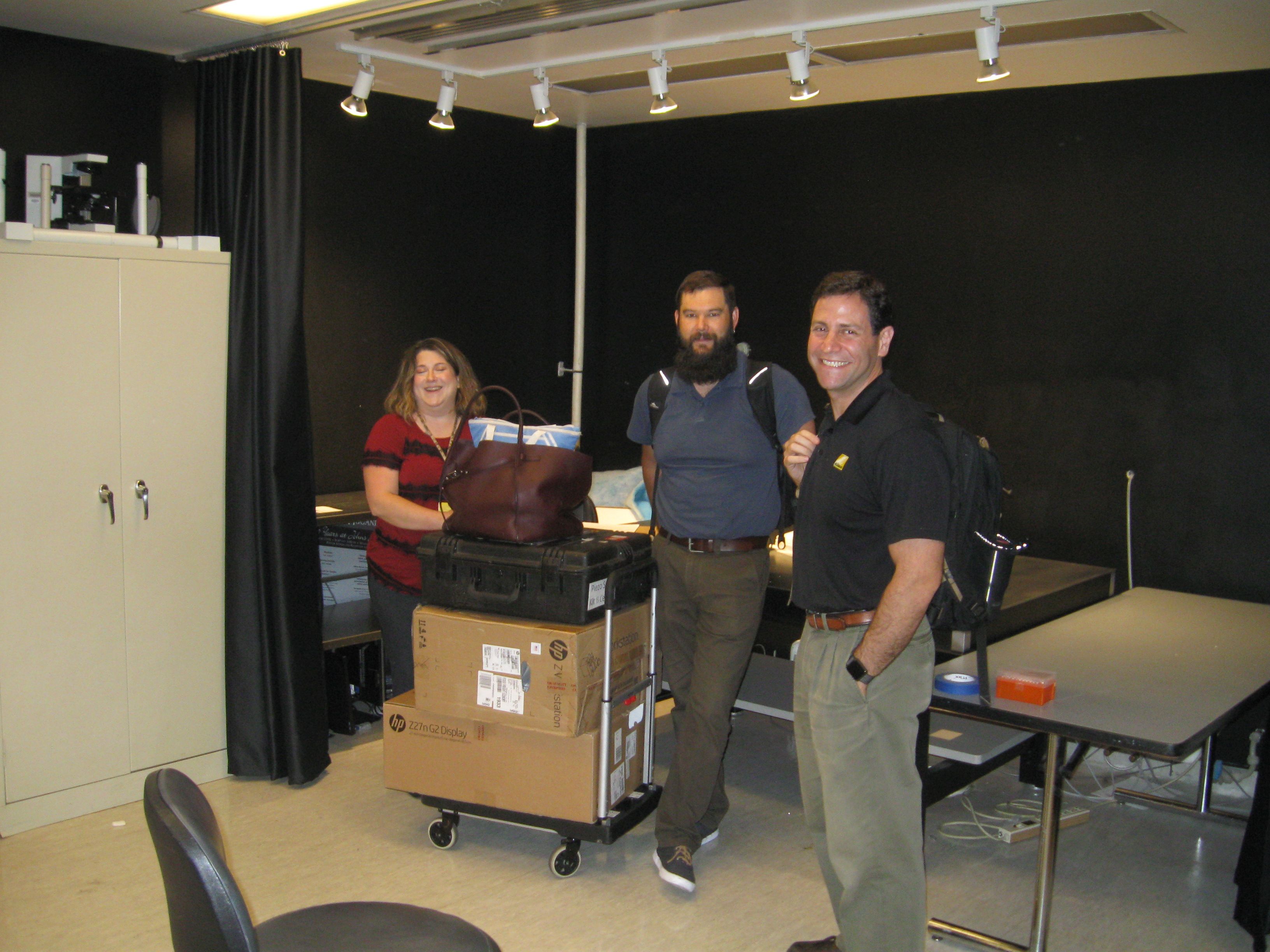 Esther, Andrew and Jesse packed up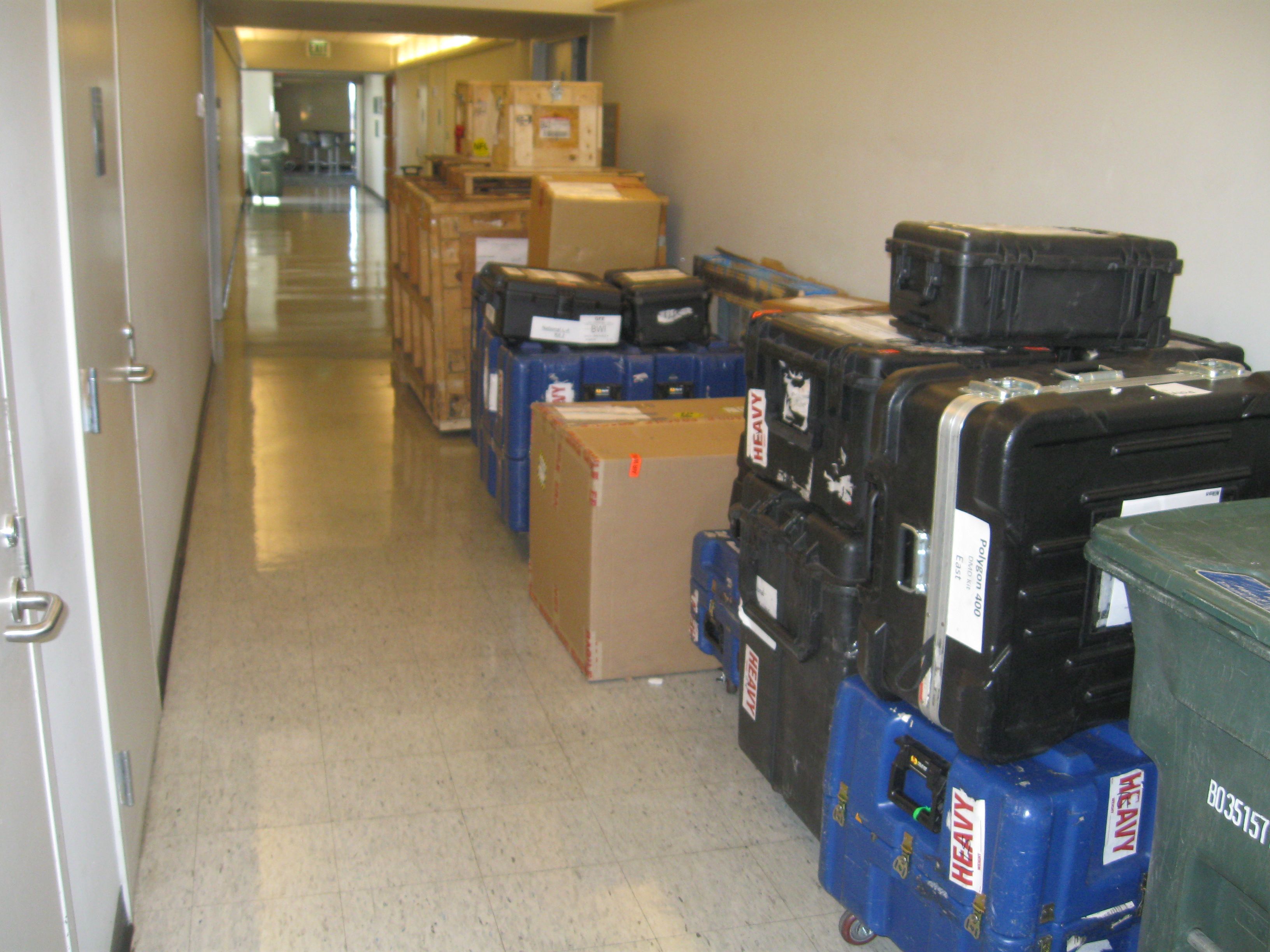 Packed, waiting pickup.
***
May 24, 2019, 1730h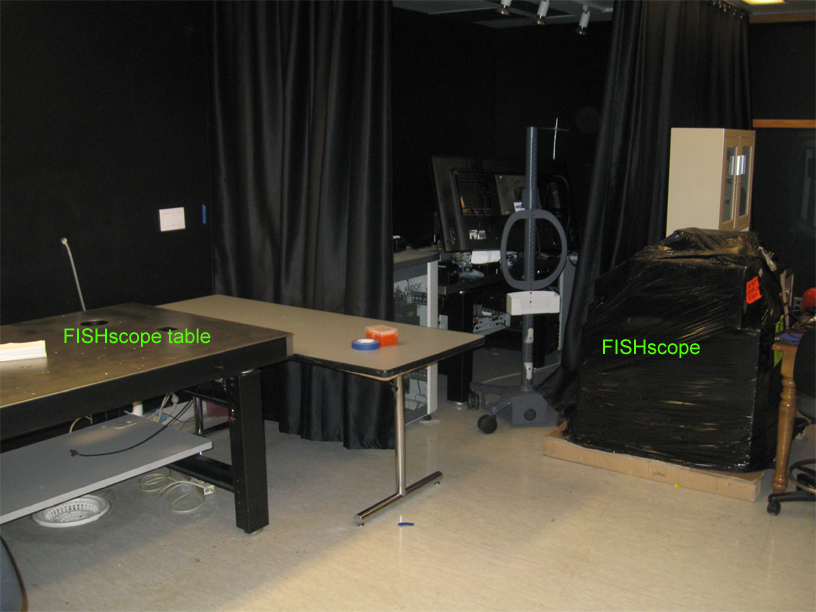 FISHscope arrival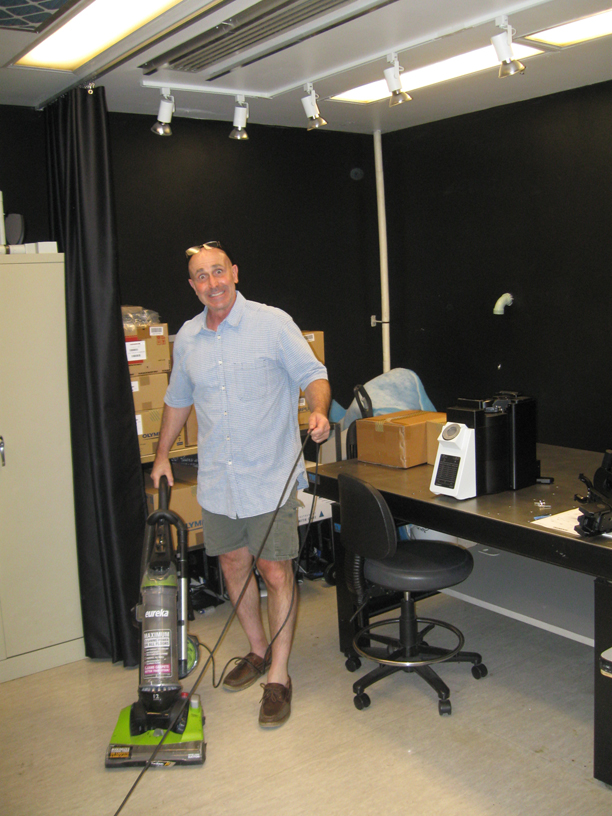 John Gibas (Olympus rep, previously image core manager) prepping FISHscope.