zzzz Retired Perkin-Elmer EnVision Plate Reader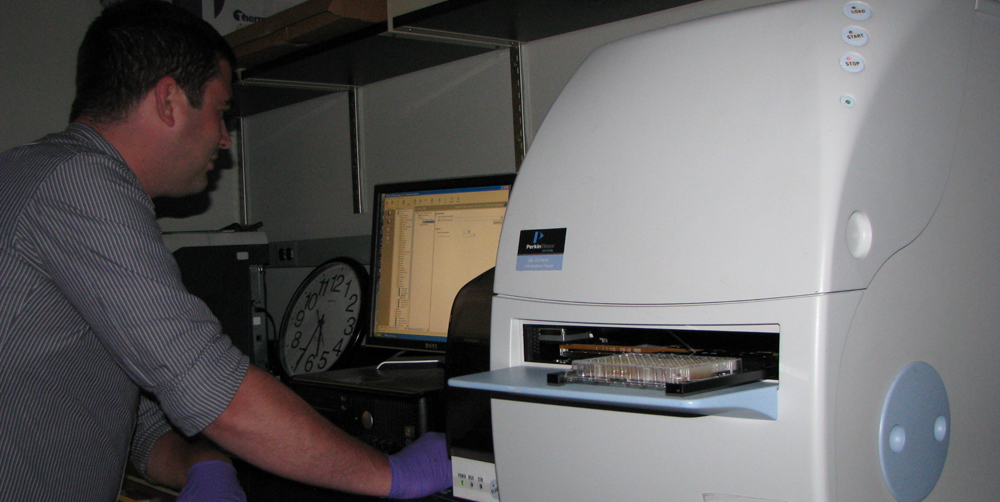 New users can contact George McNamara to coordinate training by PerkinElmer's Matt Reuter & Carl Apgar
Location: S972
New users can contact George McNamara to coordinate training by PerkinElmer's Matt Reuter & Carl Apgar:
George McNamara, Manager, Ross Fluorescence Imaging Center, gmcnama2@jhmi.edu
Matt Reuter, Sr. Account Manager (sales), matthew.reuter@perkinelmer.com
Carl Apgar, Field Applications Scientist (applicatons), carl.apgar@perkinelmer.com
http://www.perkinelmer.com/product/envision-multilabel-reader-2104-0010a
Technologies included
Filter based fluorescence intensity (top and bottom)
Time-resolved fluorescence using flash lamp ... please note: "lamp based TRF" is not as sensitive as AlphaLISA (which our EnVision does very well).
Luminescence, including glow, flash and dual luminescence
Filter-based absorbance
Fluorescence Polarization
Standard AlphaLISA®/AlphaScreen® (Laser excitation)
High-throughput AlphaLISA®/AlphaScreen® (Laser excitation)
Monochromator-based fluorescence intensity (top and bottom)
Monochromator-based absorbance detection
Ultra-sensitive luminescence
Not currently available on our instrument
Laser-based time-resolved fluorescence (TRF). Our TRF laser is not functional (and cost benefit ratio no in favor to replace wrt our current budget and user needs -- you are welcome to buy the replacement laser, but why?): You should use AlphaScreen instead.
We do not have the "plate stacker" accessory. We would love for fomeone to purchase a plate stacker to add to our instrument (you can contact Carl andMatt for pricing, and discuss with Dr. McNamara).
Sept 2018: Matt and Carl worked with a "TRF" (TR-FRET) assay user for a homogeneous no-wash assay. They brought in their demo Envision. Their unit's laser (i) works and (ii) provides biger signal and dynamic range than lamp based TRF on their demo unit or our instrument. They also said that for many assays, Alpha kits are even better performance, and our Envision works fine for Alpha.
August 2017: We (Dr. McNamara) anticipate more interactions with Matt and Carl to enable users to become even more productive with the EnVision plate reader. Matt and Carl occasionally bring in additional components - such as specialty filter sets -- for testing. Please contact them whenver you have special needs and/or to buy kits from them.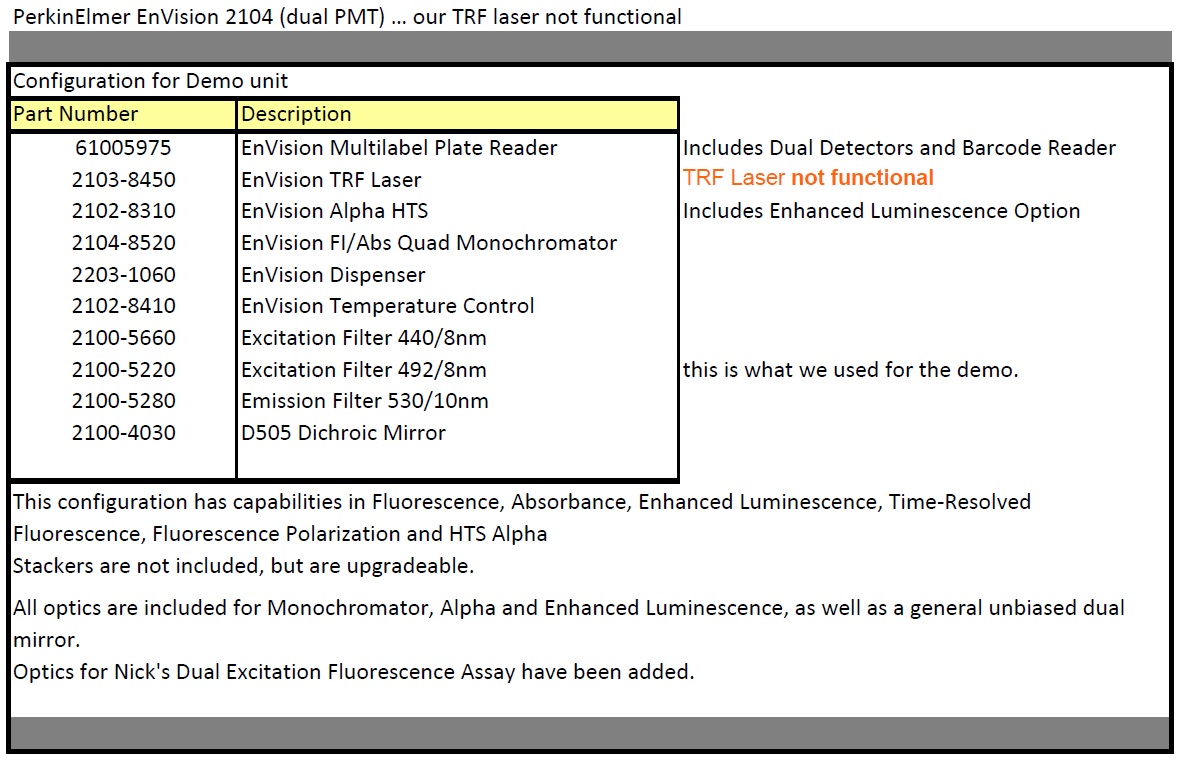 20180608Fri: I added screenshot o filters and mirrors inventory (graphical equivalent to 'Configuration for Demo unit' table above).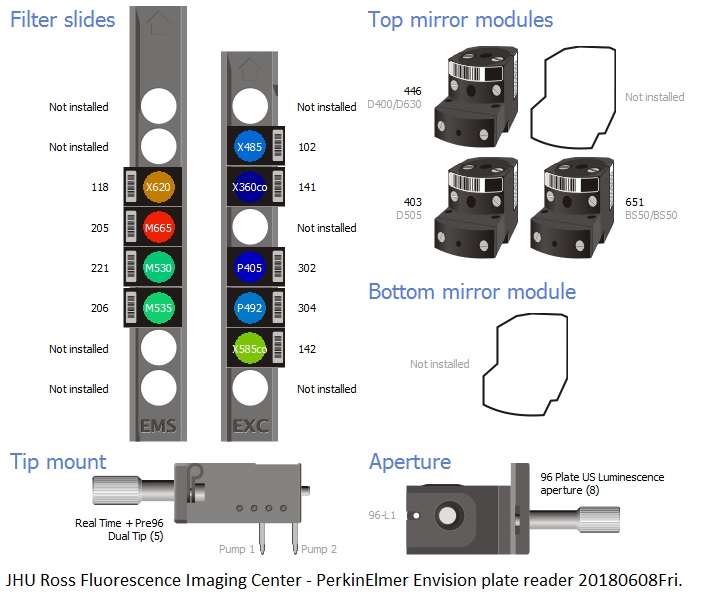 ---
Reserve Equipment